When Ron Paul was leading, GOP decided to COUNT THE VOTES IN A SECRET LOCATION OUT OF STATE. Because Anonymous was going to hack the PAPER ballots.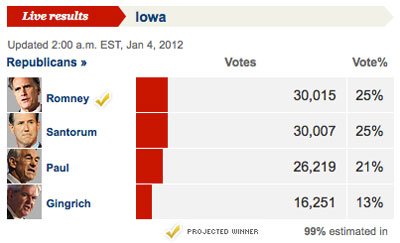 ABSENTEE BALLOTS ARE NEVER COUNTED BEFORE A WINNER IS ANNOUNCED.
NO IDENTIFICATION REQUIRED to vote in the Iowa caucus.
The Iowa Election Commission website results crashed last night.
Ron Paul Doubles Vote Tally, Captures EQUAL NUMBER OF DELEGATES As Romney & Santorum in Iowa -- 7 total
Romney got less votes than 2008, Paul doubled his # votes in 2008
Santorum nephew says Santorum is "another big-government politician who supports the status quo"
http://www.infowars.com/ron-paul-doubles-vote-tally-captures-equal-number-of-delegates-as-romney-santorum/
Public Policy Polling notes Santorum at only 10% during Dec. 26-27. So how did jew Alen "I Helped Assassinate JFK" S.P.E.C.T.E.R.S buddy rise so quickly?
2012 President: Iowa Republican Caucus

Ron Paul 24%

Mitt Romney 20%

Newt Gingrich 13%

Michele Bachmann 11%

Rick Perry 10%

Rick Santorum 10%

Jon Huntsman at 4%

Buddy Roemer at 2%

Iowa looks like a 2 person race between Paul and Romney as the campaign enters its final week.
Ron Paul blasts back at S.P.E.C.T.E.R.S Santorum after being called 'disgusting'
2012 President: Iowa Republican Caucus

24% Romney

22% Paul

15% Santorum

12% Gingrich

11% Perry

7% Bachmann

2% Huntsman

Des Moines Register 12/27-30
Ron Paul was leading by double digits in most polls last night, WITH 58% ON THE NBC POLL, except for Microsoft NBC General Electric (the nice folks who build nuclear bombs and nuked Fukushima and genocided 15,000 American babies with the radioactive fallout, getting rich off Obama's 7 wars).
Most states use FOREIGN PRIVATE MILITARY CONTRACTORS TO COUNT ELECTRONIC VOTES.
Since no Democrat candidate will run against Dictator Hussein Obama Sotoro, Democrats are flooding the Iowa GOP primary and will flood all other primaries to vote against the only candidate who can beat Obama, Goldman Sachs and the private foreign "Federal" Reserve Bank -- Ron Paul.
Never mind that NO VOTES ARE COUNTED BY THE GOVERNMENT IN ANY PRESIDENTIAL RACE and are NEVER BASED ON ACTUAL VOTES.
---
Could Typo Rewrite Caucus History? Caucus Vote Counter Says Romney Mistakenly Given 20 Votes (after "winning" by 8 votes)
KCCI TV Channel 8
January 5, 2012
DES MOINES, Iowa -- Caucus night was chaotic in many places, with hundreds of voters, candidates showing up and the throngs of media who followed. The world's eyes were on Iowa. But in the quiet town of Moulton, Appanoose County, a caucus of 53 people may just blow up the results.
Edward True, 28, of Moulton, said he helped count the votes and jotted the results down on a piece of paper to post to his Facebook page. He said when he checked to make sure the Republican Party of Iowa got the count right, he said he was shocked to find they hadn't.
"When Mitt Romney won Iowa by eight votes and I've got a 20-vote discrepancy here, that right there says Rick Santorum won Iowa," True said. "Not Mitt Romney."
True said at his 53-person caucus at the Garrett Memorial Library, Romney received two votes. According to the Iowa Republican Party's website, True's precinct cast 22 votes for Romney.
"This is huge," True said. "It essentially changes who won."
A spokeswoman with the Iowa Republican Party said True is not a precinct captain and he's not a county chairperson so he has no business talking about election results. She also said the party would not be giving interviews about possible discrepancies until the caucus vote is certified.
KCCI political analyst Dennis Goldford said even if the caucus results are wrong, it's not the end of the world.
"This will make Iowa look a little foolish in the eyes of the rest of the country, which already questions the seriousness of the caucuses," Goldford said. But in terms of Santorum's results here, the Caucuses have made him a player in presidential politics and if he should nudge ahead of Gov. Romney for the final certified result that's really not going to make any significant difference at this point."
True -- who said he's a Ron Paul supporter -- hopes it was a simple mistake.
"I imagine it's a good possibility that somebody instead of hitting 2 might have hit 22 by accident," True said. "I hope so."
But he said he won't stop talking about it until the state -- by his count -- gets the numbers right.
"Numbers that I personally witnessed being counted and assisted in counting and am certain are right," he said.
Iowa Republican Party Chairman Matt Strawn said late Thursday that the party headquarters spoke with Appanoose County Republican officials and they do not have any reason to believe the final, certified results of the county will change the outcome of Tuesday's vote.
Reached a short time later, True said he is absolutely certain his numbers are correct and he stands by his statement. True said he confirmed his numbers with his precinct captain and his county party chairman.
True reiterated Thursday night that he is 100-percent certain that his figures from that night were correct. He said he has checked with his precinct chairman and the GOP county chairman and they confirmed his numbers.
Affidavit from Edward L. True
http://www.watchthevote2012.com/AffidavitTrue.htm
Appanoose County Republican Party Chair Backs True
Appanoose County Republican Chairman Lyle Brinegar said Friday that his records indicate Romney did indeed only receive 2 votes in True's precinct. He told KCCI the county's paperwork is in order and he's confident the mistake will be corrected before the vote is certified.
Caucus Chair Backs True
Precinct caucus chair, Tony Seibert also said yes, Mitt Romney only received two votes in his precinct, not the 22 the GOP is reporting.
Seibert said he's willing to wait for the certified results to see if the error is corrected.
"Everybody's getting so upset over this. Let's wait until all the vote totals are in," said Seibert.
Seibert said he doesn't want to speculate, but said it's possible it was just a typo that will soon be corrected.
"That's the great thing about America," Seibert said. "We're allowed to make reasonable mistakes."
Friday Update
KCCI News spoke to True in Moulton on Friday. True said the media attention that has arisen from his story with KCCI is, "blowing my mind."
True said he has received calls from Fox News and Anderson Cooper's show. He said he searched the web and was surprised to find international coverage of what he had to say.
True stands by the numbers he wrote down that night, and with the help of Watch The Vote 2012, he's finding other precincts that also experienced discrepancies.
True said he heard what Rick Santorum said the GOP told him about another error in Romney's favor canceling out his error.
"If there are two errors, how many more are out there?"
BTW Ron Paul won with 7 delegates in Iowa. Nobody got more delegates than Ron Paul. That means Ron Paul WON. Funny how the news corps forget to mention that. Funny how Dictator Hussein Obama Soetoro won't send DOJ and FBI to investigate that.
---
PRIVATE SECRET SOCIETY DECIDES ALL NATIONAL ELECTION VOTES IN SECRET
The Voter News Service was a consortium whose mission was to provide results for United States presidential elections, so that individual organizations and networks would not have to do exit polling and vote tallying in parallel. A possibly unwritten secondary mission of the Voter News Service was to provide election results as quickly as possible on election night—a point which came to haunt the VNS in the 2000 presidential election.
The VNS received intense criticism for its 'flip-flop' calling of the state of Florida in that election[citation needed]. During the course of the evening, it first called the closely contested state of Florida for Al Gore, then George W. Bush, and then as 'too close to call'. Critics argued that the state should never have been called until the state's fate was clear. The Voter News Service also received specific criticism for calling the state of Florida for Al Gore before the polls closed in the Florida panhandle, which was located in the Central Time Zone and heavily Republican. In addition, criticism also came because of the call for Bush which occurred before precincts in Broward, Palm Beach Volusia, and Miami-Dade Counties, all democratic, reported their results to the state which occurred after the networks called the state for Bush well after 2 AM eastern standard time.
Disasters were almost comical. Many of the more than 30,000 temporary workers collecting exit-poll information were disconnected from VNS' new voice-recognition system before they could finish inputting data over the phone. Some poll workers were unable to access the system at all. Live operators weren't always a help, as the phone system periodically crashed under the crush of callers dialing in.
Using computers was not much of an alternative. News organizations and other VNS subscribers were repeatedly instructed to log off their machines, so the new servers running BEA Systems' WebLogic application server could be rebooted.
When users finally were able to access the system, they quickly discovered they were being presented with incomplete and inaccurate information. For instance, early exit-polling data indicated that Erskine Bowles was leading Elizabeth Dole in the North Carolina senatorial race. As the day progressed and more exit-poll data was added, that margin grew.
However, when the actual votes were tallied, Dole won the election by almost 200,000 votes, a convincing victory.
"It was a joke," one political analyst at a major television network told Baseline. "It became obvious to everyone that this wasn't going to work. There wasn't enough testing. There was not enough collaboration between the networks and the IT people. And, worse, there was nothing we could do about it. You can't postpone an election."
Network executives quickly concluded they would not use the bulk of the data they were able to collect, particularly the exit-polling information. Projecting winners and losers in various races would take several hours longer than in the past.
Also, the networks would be unable to give the type of detailed explanations as to why voters voted the way they did this time around. For example, according to TV network analysts working the election, the networks wouldn't be able to tell viewers why particular demographic groups voted for specific candidates nor the issues that they considered most or least important when voting.
As a result of their election night forecasts, the television networks and their Voter News Service (VNS) have more than just egg on their faces.
They may also have some legal trouble. The American Antitrust Institute in Washington, D.C. is urging the Justice Department to split up the VNS following an election night of botched calls.
The VNS was formed by ABC, CBS, NBC, CNN, Fox and the Associated Press in 1990 in an effort to save millions of dollars in exit polling costs. But critics say the New York company, which operates as a limited liability corporation for its funding members, has a virtual monopoly on election-night polling.
In 2002, the VNS intended to make calls in the November U.S. Congressional and Senate elections. It attempted to use a computer designed for VNS by an outside contractor to do this. A system failure occurred in this computer on election night, making quick delivery of data impossible. In fact, collecting and delivering the data took ten months.
In January 2003, the Voter News Service was disbanded largely because of failures in 2000 and 2002. Murray Edelman, VNS editorial director, criticized the decision as making the VNS a scapegoat.
Edison Media Research and Mitofsky International conducted exit polls in each state and nationally for the National Election Pool (ABC, AP, CBS, CNN, FOX, NBC). The polls should be referred to as a National Election Pool (or NEP) Exit Poll, conducted by Edison/Mitofsky. All questionnaires were prepared by NEP. The National exit poll was conducted at a sample of 250 polling places among 11719 Election
Day voters representative of the United States.
In the 2004 presidential election, a new organization called National Election Pool was set up by the same organizations, utilizing consultants Edison/Mitofsky for exit polling and Associated Press for official returns. However, the NEP had controversies of its own for 2004 when it released exit polling data early that was significantly different than the final results.
The organizers of the pool insist that the purpose of their quick collection of exit poll data is not to determine if an election is flawed, but rather to project winners of races. Despite past problems, they note that none of their members has incorrectly called a winner since the current system was put in place. [1] However, to avoid the premature leaking of data, collection is now done in a "Quarantine Room" at an undisclosed location in New York. All participants are stripped of outside communications devices until it's time for information to be released officially.
http://en.wikipedia.org/wiki/Voter_News_Service
http://en.wikipedia.org/wiki/National_Election_Pool
http://www.baselinemag.com/c/a/Business-Intelligence/Voter-News-Service-What-Went-Wrong/
http://www.forbes.com/2000/11/29/1129vns.html
http://www.cbsnews.com/htdocs/pdf/methods.pdf
---
As for Iowa, Mormon Mitt "Sex-Addict Illegal Alien From Outer Space" Romney allegedly won by EIGHT VOTES OUT OF 100,000 TOTAL VOTES, with ALL VOTES MISSING FROM TWO COUNTIES.
http://www.dailypaul.com
Mitt Romney announces victory in Iowa, pledges to have sex in outer space with as many sexy space aliens as possible:
CNN Jew Pulls the Plug on Live Feed of Soldier Talking About Voting for Ron Paul:
Republican Insider: GOP Establishment Planning To Subvert Iowa to Prevent Ron Paul Win:
Just a heartbeat away...Obama/Clinton 2012: Who's yo pimp daddy biatch?