Teacher arrested for shooting two school principals
KNOXVILLE, TENNESSEE -- A principal and assistant principal have been shot at Inskip Elementary School, and a teacher is now in custody as the suspect. Superintendent Jim McIntyre has now confirmed that it was the schools' intent not to have 4th grade teacher Mark Stephen Foster back in the classroom next year. At this point, there's no official confirmation that news he was being let go was a motive for the shooting. Mark Stephen Foster, 48, is the man in custody in connection with the shooting. Foster, of Clinton, has been charged with two counts of Attempted First Degree Murder. Foster teaches 4th grade.
Funny how Amerikans, and govt employees, don't take kindly to having their jobs and careers exported or eliminated...
Another LIHOP PSYOP? Is he from
CIA's underground lab at VA Tech
? What's ORNL doing to their nuke-bomb employees?
---
University of Alabama professor shot and killed 3 teachers in 2010, led bomb plot at Harvard in 1993, shot and killed brother in 1986...
Valentines Day, 2010
VIDEOS
The scientist who is accused of killing three colleagues at the University of Alabama had been a key suspect in an attempted bomb plot at Harvard in 1993, police officials told The Boston Globe on Sunday.
Authorities questioned Amy Bishop and her husband, James Anderson, in March 1993 after a bomb-laden package was delivered to a Harvard professor and doctor at Boston's Children's Hospital, the Globe reported.
The plot was the latest revelation linking Bishop to past investigations. Bishop is accused of shooting to death three colleagues during a faculty meeting on the University of Alabama's Hunstville, Ala. campus on Friday.
Bishop, who has four children, was arrested soon after the shooting and charged with capital murder. Other charges are pending. Her husband was detained and questioned by police but has not been charged.
In 1986, Bishop shot and killed her 18-year-old brother with a shotgun at their Braintree, Mass., home. She told police at the time that she had been trying to learn how to use the gun, which her father had bought for protection, when it accidentally discharged.
Authorities released her and said the episode was a tragic accident. She was never charged, though police Chief Paul Frazier on Saturday questioned how the investigation was handled.
In the Harvard plot, a police official told the Globe that Bishop's name surfaced as a suspect because she was allegedly concerned about getting a negative evaluation on her doctorate work from Dr. Paul Rosenberg.
During the initial investigation, Rosenberg told police that he had received a thin, long package addressed to him and soon discovered that was filled with wires and a cylinder, according to the Globe.
The package had contained two pipe bombs, which were hooked up two nine-volt batteries, the Globe reported.
During a search of Bishop's computer, investigators discovered a draft of a story that Bishop had written about a female scientist who had killed her brother and was hoping to find redemption in life my becoming a great scientist, the Globe reported.
Bishop and her husband were never charged in the Harvard plot.
Back in Alabama, some of Bishop's colleagues, including William Setzer, chairman of the department of chemistry, told The Associated Press they did not know about Bishop's past.
Alabama police said the gun she is accused of using in Friday's shooting was not registered, and investigators don't know how or where she got it.
Just after the shooting, her husband James Anderson told the Chronicle, she called and asked him to pick her up. She never mentioned the shooting, he said.
Anderson said his wife had an attorney but would not say who it was. He declined further comment to The Associated Press on Sunday. However, he told the Chronicle of Higher Education earlier in the day that he had no idea his wife had a gun — nor did he know of any threats or plans to carry out the shooting when he dropped her off at the faculty meeting Friday.
Even in the days and hours before the shooting, Bishop's friends, colleagues and students said she was acting like the intelligent — but odd — professor they knew.
UAH student Andrew Cole was in Bishop's anatomy class Friday morning and said she seemed perfectly normal. Kourtney Lattimore, 19, a sophomore studying nursing who had Bishop for anatomy and physiology courses, said she didn't notice anything out of the ordinary.
"She was fine. It was a normal day," Lattimore said.
Tenure — a type of job-for-life security afforded academics — is often a stressful process for anyone up for review, Setzer said. Bishop was up front about the issue, often bringing it up in meetings where the subject wasn't appropriate.
"That was another thing that made her different," Setzer said. "In committee meetings she didn't pretend that it wasn't happening or anything. She was even loud about it: That they denied her tenure and she was appealing it, blah, blah, blah, blah, blah."
Some have said the shootings stemmed from Bishop's tenure dispute, though authorities have refused to discuss a motive. Andrea Bennett, a sophomore majoring in nursing and an athlete at UAH, said a coach told her team that Bishop had been denied tenure, which the coach said may have led to the shooting.
Killed were Gopi K. Podila, the chairman of the Department of Biological Sciences, and professors Adriel Johnson and Maria Ragland Davis. Three people were wounded. Two of them — Joseph Leahy and staffer Stephanie Monticciolo — were in critical condition early Sunday. The third, Luis Cruz-Vera, had been released from the hospital.
Sammie Lee Davis, Davis' husband, said in a brief phone interview that he was told a faculty member got angry while discussing tenure at the meeting and started shooting. He said his wife had described Bishop as "not being able to deal with reality" and "not as good as she thought she was."
Bishop was calm as she got into a police car Friday, denying that the shootings occurred. "It didn't happen. There's no way. ... They are still alive."
---
Lest we forget the
Bath School Massacre
-- the deadliest school shooting/bombing in USA,
perped by an elected member of the school board
. Funny how the media whores forget to mention that fact during every shool massacre, or that
homicidal explosive controlled demolition of governmental buildings is a common governmental activity
.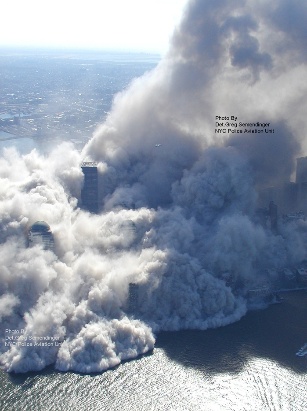 Yeah, sure, Rabbi Rockefeller's World Trade Center just fell down. It's not like it exploded into dust or anything...
"I don't regret setting bombs. I feel we didn't do enough. Kill all the rich people. Break up their cars and apartments. Bring the revolution home, kill your parents, that's where it's really at. Everything was absolutely ideal on the day I bombed the Pentagon.''
-
Professor Bill Ayers
, FBI/CIA employee and confessed bomber of NYPD HQ, US Capitol, NY Supreme Court, bombed and killed two female bombers in his house, busted CIA LSD mind-control agent Timothy Leary out of prison, confessed to 12 bombings but never prosecuted, author of Barack Hussien Obama Sotoro's authorized biography and grant recipient of Obama's Annenberg Foundation