Crap, I've got the flu today... Kicking its little flu ass with oregano oil, garlic, guai, colloidal silver, raw fruit juice and medicine lodge.
---
"Accidental" Contamination Of Vaccine With Live Avian Flu Virus Virtually Impossible
Steve Watson
Infowars.com
Czech newspapers are questioning if the shocking discovery of vaccines contaminated with the deadly avian flu virus which were distributed to 18 countries by the American company Baxter were part of a conspiracy to provoke a pandemic.
The claim holds weight because, according to the very laboratory protocols that are routine for vaccine makers, mixing a live virus biological weapon with vaccine material by accident is virtually impossible.
"The company that released contaminated flu virus material from a plant in Austria confirmed Friday that the experimental product contained live H5N1 avian flu viruses," reports the Canadian Press.
Baxter flu vaccines contaminated with H5N1 - otherwise known as the human form of avian flu, one of the most deadly biological weapons on earth with a 60% kill rate - were received by labs in the Czech Republic, Germany, and Slovenia.
Initially, Baxter attempted to stonewall questions by invoking "trade secrets" and refused to reveal how the vaccines were contaminated with H5N1. After increased pressure they then claimed that pure H5N1 batches were sent by accident. This was seemingly an attempt to quickly change the story and hide the fact that the accidental contamination of a vaccine with a deadly biological agent like avian flu is virtually impossible and the only way it could have happened was by wilful gross criminal negligence.
"Was this just a criminal negligence or it was an attempt to provoke pandemia using vaccination against flu to spread the disease - as happened with the anti-B hepatitis vaccination with vaccines containing the HIV virus in US? - and then cash for the vaccines against H5N1 which Baxter develops? How could on Earth a virus as H5N1 come to the ordinary flu vaccines? Don't they follow even basic precautions in the american pharma companies?" states the translation.
The fact that Baxter mixed the deadly H5N1 virus with a mix of H3N2 seasonal flu viruses is the smoking gun. The H5N1 virus on its own has killed hundreds of people, but it is less airborne and more restricted in the ease with which it can spread. However, when combined with seasonal flu viruses, which as everyone knows are super-airborne and easily spread, the effect is a potent, super-airbone, super deadly biological weapon.
As the Canadian Press article explains, "While H5N1 doesn't easily infect people, H3N2 viruses do. If someone exposed to a mixture of the two had been simultaneously infected with both strains, he or she could have served as an incubator for a hybrid virus able to transmit easily to and among people."
Spreading bird flu would create an instantaneous surge of demand for bird flu vaccines. The profits that vaccine companies such as Baxter International could reap out of such a panic are astronomical.
Those that have a stake in the Tamiflu vaccine include top globalists and BIlderberg members like George Shultz, Lodewijk J.R. de Vink and former Secretary of Defense Donald Rumsfeld.
"Baxter is acting a whole lot like a biological terrorism organization these days, sending deadly viral samples around the world. If you mail an envelope full of anthrax to your Senator, you get arrested as a terrorist. So why is Baxter — which mailed samples of a far more deadly viral strain to labs around the world — getting away with saying, essentially, "Oops?", Adams concludes.
This is not the first time that vaccine companies have been caught distributing vaccines contaminated with deadly viruses.
In 2006 it was revealed that Bayer Corporation had discovered that their injection drug, which was used by hemophiliacs, was contaminated with the HIV virus. Internal documents prove that after they positively knew that the drug was contaminated, they took it off the U.S. market only to dump it on the European, Asian and Latin American markets, knowingly exposing thousands, most of them children, to the live HIV virus. Government officials in France went to prison for allowing the drug to be distributed. The documents show that the FDA colluded with Bayer to cover-up the scandal and allowed the deadly drug to be distributed globally. No Bayer executives ever faced arrest or prosecution in the United States.
---
Bayer was formerly named IG Farben, that ran the Nazi death camps with Zyklon B nerve gas.
"I must confess that I am tempted to ask for reincarnation as a particularly deadly virus."
-Nazi Prince Philip King of the British Empire, in his Foreward to his book "If I Were an Animal", 1986
"Human population growth is probably the single most serious long-term threat to survival. We're in for a major disaster if it isn't curbed--not just for the natural world, but for the human world. The more people there are, the more resources they'll consume, the more pollution they'll create, the more fighting they will do. We have no option. If it isn't controlled voluntarily, it will be controlled involuntarily by an increase in disease, starvation and war."
-Nazi Prince Philip King of the British Empire, People magazine, Dec 21, 1981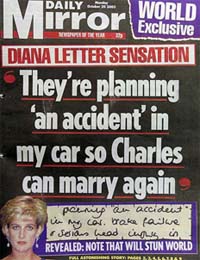 ---
U.S. Air Force Study Proposed 2009 Influenza Pandemic in 1996
Kurt Nimmo
Infowars
March 5, 2009
On June 17, 1996, the U.S. Air Force released
Air Force 2025
, "a study designed to comply with a directive from the chief of staff of the Air Force to examine the concepts, capabilities, and technologies the United States will require to remain the dominant air and space force in the future." In the unclassified study, the College of Aerospace Doctrine, Research, and Education at Maxwell Air Force Base in Alabama posed several "fictional representations of future situations/scenarios" likely to arise.
In Chapter 5, the authors present a timeline figure representing "plausible history." In 2009, according to the figure, influenza will kill 30 million people. "A similar influenza pandemic occurred in the past," a footnote explains, making a reference to the influenza epidemic of 1918 and 1919, described as "one of the worst human catastrophes on record. It has been estimated that more than 20 million people around the world died during the epidemic, and of the 20 million people who suffered from the illness in the United States, approximately 850,000 died."
"The influenza virus is unique among viruses in being able to undergo so much antigenic change that an antigenically novel virus can sweep around the world in a year or two, giving rise to significant morbidity and mortality," another footnote states.
It is interesting to note that the source of the Air Force's fictional pandemic is described as unknown and it is not "determined if the virus was a natural mutation or bioengineered. Many feared the latter." (Emphasis added.)
Is it merely a coincidence the Pentagon would propose in 1996 a deadly flu pandemic for 2009 when live H5N1 avian flu viruses are discovered in vaccines produced by a Baxter International plant in Austria?
"The fact that Baxter mixed the deadly H5N1 virus with a mix of H3N2 seasonal flu viruses is the smoking gun," writes Paul Joseph Watson. "The H5N1 virus on its own has killed hundreds of people, but it is less airborne and more restricted in the ease with which it can spread. However, when combined with seasonal flu viruses, which as everyone knows are super-airborne and easily spread, the effect is a potent, super-airborne, super deadly biological weapon" of the sort proposed in Air Force 2025.
Last year, author and researcher F. William Engdahl revealed a Pentagon effort to weaponize avian flu. "If the reports are accurate, this could unleash a new pandemic on the planet that could be more devastating than the 1918 Spanish Flu epidemic which killed an estimated 30 million people worldwide before it eventually died out," writes Engdahl.
Engdahl then suggests "that sections of the international pharmaceutical industry cartel are acting in concert with the US Government to develop a genetically modified H5N1 virus substance that could unleash a man-made pandemic." He cites Rima E. Laibow, MD, head of the Natural Solutions Foundation, a citizen watchdog group monitoring the pharmaceutical industry, who states:
Our best intelligence estimate is that pandemic Avian Flu has already been created through genetic engineering in the United States, fusing the deadly genome of the 1918 Pandemic, misnamed the 'Spanish Flu', with the DNA of the innocuous H5N1 virus in a growth medium of human kidney cells, according to the National Institutes of Health and the vaccine's manufacturer. Some virologists believe that this would insure that the man-made mutant virus recognizes human cells and knows how to invade them.
Finally, it should be noted that Walter E. Boomer, a retired former four-star General and Assistant Commandant of the United States Marine Corps, sits on the board of directors of Baxter International. Of course, this is not definitive evidence the military controls Baxter or is behind the "accidental" contamination of H3N2 seasonal flu viruses with the H5N1 virus at its laboratory in Austria. It is highly suspicious, however.
Baxter International has had a relationship with the military since 1941, when its blood-collection devices were the only ones that met the specifications of the U.S. Armed Forces.