UPDATE:
Pirate News BANNED by WATE Forum
for posting TRUE reports by New York City newspapers that drag queen Rudy Giuliani's family was MAFIA. Note that when John Lee of Pirate News ordered Wayne Barrett's book from Borders in Knoxville, it arrived printed upside down and pages reading back to front...
Rudy's Kin Tied to MobFather, uncle and cousin surface in new biography
By MICHAEL R. BLOOD
Daily News City Hall Bureau Chief
New York Daily News
July 06, 2000
Mayor Giuliani — a former federal prosecutor who won notice for pursuing the Mafia — had relatives linked to organized crime, including a mobbed-up cousin who was gunned down by FBI agents in 1977, a new book says.
Lewis D'Avanzo, a son of the mayor's uncle and a guest at Giuliani's first wedding in 1968, was a "ruthless and widely feared mob associate" who headed a massive stolen car ring, according to FBI documents and interviews detailed in
Rudy! An Investigative Biography of Rudolph Giuliani
, by Village Voice senior editor Wayne Barrett.
Due in stores next week, the book sketches a largely unflattering portrait of the clan, depicting his father, Harold, as a hothead and the "muscle" behind a brother-in-law's loansharking operation, run out of a Brooklyn bar.
Along with cracking heads, it says the mayor's father served time in state prison for a stickup, rarely held an on-the-books job and once was a gunman in a mob shootout in Brighton Beach, Brooklyn.
The book never makes clear how much of the family's alleged dark side is known to the mayor, who has talked lovingly of his father, who died in 1981 of prostate cancer — the same disease that the mayor is fighting.
The mayor's spokeswoman, Sunny Mindel, said yesterday that Giuliani "hadn't seen the book and had no comment." On Tuesday, Giuliani defended his father as "a complete man" who taught him the value of honesty, but the mayor refused to address questions about his father's alleged criminal past.
"The details of his life died with him," the mayor said.
And they almost stayed that way.
Barrett said a source told him the elder Giuliani had spent time behind bars, but the author couldn't find city court records documenting it.
Barrett eventually looked in the 1934 state prison archives in Albany and discovered a single sheet — a Sing Sing Prison receiving blotter — that listed Harold Giuliani at the top of the page. On the next line, Barrett found the key to the story: Harold Giuliani's alias, Joseph Starrett.
Barrett then found all the New York court records under the name Starrett. Initial excerpts of the book appeared in Talk magazine and in this week's Voice; another excerpt was released yesterday.
According to the book, Giuliani's cousin Lewis D'Avanzo was known as "Steve the Blond" and listed as armed and dangerous in FBI bulletins. His criminal record included a 10-year federal sentence for the armed hijacking of a truck loaded with $240,000 worth of mercury. The book alleges that he was suspected of taking part in several murders.
D'Avanzo was gunned down by the FBI in October 1977, when he tried to run down an agent after being stopped on a warrant that accused him and two associates of transporting 100 stolen luxury cars.
Quoting an unnamed friend of D'Avanzo, the book describes a 1962 shootout pitting a local mobster against the mayor's father and Leo D'Avanzo, Lewis D'Avanzo's father.
The book says Leo was later sanctioned by mob bosses for shooting at a Mafia member.
Born two years apart, Giuliani and his cousin attended the same elementary and high schools, but Giuliani's father forbade the two from spending much time together. Giuliani met D'Avanzo's wife, Lois, only once — at the mayor's first wedding, to Regina Peruggi, the book says.
The book says Leo D'Avanzo, who was known in family circles as a black sheep, ran loansharking and gambling operations out of a Brooklyn bar where Giuliani's father worked as a bartender.
In his role as debt collector, his father "broke legs, smashed kneecaps, crunched noses," the book says.
Leo D'Avanzo left town after the shootout, and gave the bar to Harold Giuliani, the book said.
Based on interviews with family members, the book also claims that Joan Ellen D'Avanzo, a cousin who at one time lived with Giuliani when he was a youngster, became a drug addict who was beaten to death in 1973 at age 34. Her cause of death was listed as undetermined, but several family members said she was murdered.
See also:
MSNBC VIDEO Keith Olberman:'Worst' 9/11 memorial
- But our winner to the government of the city of New York, Rudy W. Giuliani, then-mayor. A city contractor and a retired Sanitation Department official say in court papers they witnessed the city putting a rush order on the sifting of the debris from the World Trade Center in October of 2001. Thus, not only were body parts of the victims, some at least, lost, but that some of that debris wound up in the pile of junk used to fill pot holes on the streets of the city. And if you were wondering where New York City's memorial to the victims of 9/11 was, now you know. Then-mayor Giuliani and the government of the City of New York, today's Worst Persons in the World.
WTC Families for Proper Burial
VIDEO: Contractor Alleges City Filled Potholes With Remains of 9/11 Victims
9/11 remains fill potholes, worker claims
9/11 victims should not be left in the Fresh Kills dump, families say
9/11 Firefighters and Families Truth Group Protest Giuliani
WTC victims and families protest Giuliani murdering 20,000 rescue workers
9/11 remains possibly used on roads: court papers
Mafia Vultures Loot WTC Ruins
---
Message from Mr. Hill arrested for mailing a DVD
Watch
7/7 Ripple Effect
for free. If you dare...
Courtwatchers and protestors required NOW TODAY at the four courts in Dublin.
SEE MAP
We met with John Anthony Hill who got arrested for mailing a DVD (with no letter attached) to a UK court from Ireland (reported by the Irish Times). John is also the producer and narrator of this DVD. Mr Hill, 60 years old, showed us his arrest warrant and gave us permission to pass on information contained in it.
The maximum sentence on the warrant is Life Imprisonment in England.
Giuliani's Jewish police chief
Bernard Kerik was arrested and convicted
for felonies as police chief on 9/11, and who fucked his prostitutes at Ground Zero in the rubble of World Trade Center
John had his computer and other property seized which is why he requested other people to help him as he is not able to defend him self properly as a result.
The phony charge is possibly fabricating evidence that might cause injustice and this is from the same country that helped put people in Guantanamo and other torture facilities world-wide.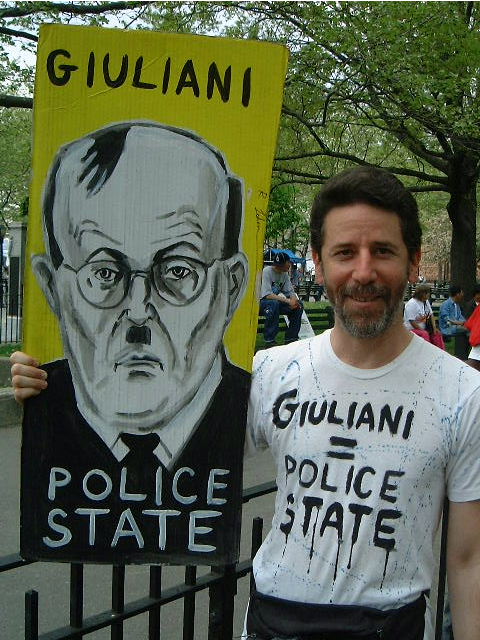 Artist Robert Lederman was arrested 200 times by mayor Giuliani
The DVD only contains main stream media news (BBC, ITV, New York Times etc) and the small remainder is his political opinion which as of yet no one is legally supposed to be extradited for, within the EU.
The DVDs were also never given to the Judge or Foreman of the trail which is to do with 3 men never mentioned in the DVD.
Regardless if you agree or disagree with the contents of this documentary anyone who values freedom would see there is an injustice being carried out here.
John's court case is on this Thursday at the four courts in Dublin. Having a gathering outside would not change anything inside the court but it might get the media to shine more light on this injustice. John is asking anyone who is not working that day (this Thursday the 19th) to come along at 1:30pm, and anyone who can take a half day.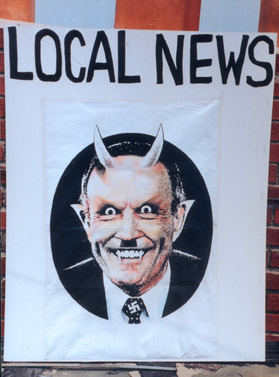 I'm not sure if handing out his DVD or flyers with information contained in the DVD on the street would be WELCOMED by the court, but it is not yet illegal to hand out free materials on the public streets of Dublin that does not promote a commercial event. Anyone who has the technical abilities to make copies or photocopy information and is able to come along might want to think of doing so.
The documentary is available free on the Google videos and Youtube,
7/7 Ripple Effect
. Perhaps spread this on forums and contact the media if you think it is a good idea or better yet come up with your own peaceful ideas.
I'm sure you would want support too if injustice was being carried out against you, but you should only help because you want to.
---
I'd recommend walking into court and handing a copy to the judge, since MI6 intercepted the original DVD in the mail. I've done it myself, to complain about getting a bullet hole in my car for appearing on TV during the
murder trial of a US Govt hitman
.
Also watch the trial and immediately blog a report later today. Shoot video as a member of the media and post online today, as Pirate News TV does. It's normal and legal for people to send mail to judges during important cases.
Watch the "banned" video for yourself, just like 50-million other people already have:
Highlights include BBC TV reporting that the govt was running "bombing drills" in the same tube stations on the same day at the same time as the real bombings.
Turned out that was why Sir Rudy Ghouliani Knight of the British Empire was in London that day, since it was his company doing the drills, just like he did on 9.11 with "coincidental" CIA "drills" of crashing hijacked planes into buildings...
www.globalresearch.ca/index.php?context=va&aid=821
http://wagnews.blogspot.com/2005/07/giuliani-linked-to-london-terror-drill.html
---
"In what the government describes as a bizarre coincidence, one U.S. intelligence agency was planning an exercise last Sept. 11 in which an errant aircraft crashed into one of its buildings. But the cause wasn't terrorism -- it was to be a simulated accident. Officials at the Chantilly, Va.-based National Reconnaissance Office had scheduled an exercise that morning in which a small corporate jet crashed into one of the four towers at the agency's headquarters building after experiencing a mechanical failure. The agency is about four miles from the runways of Washington Dulles International Airport. The National Reconnaissance Office operates many of the nation's spy satellites. It draws its personnel from the military and the CIA."
—Associated Press,
Agency planned drill for plane crash last Sept. 11
, August 22, 2002
"The National Law Enforcement and Security Institute will be holding a conference called 'Homeland Security: America's Leadership Challenge' in Chicago on 6 Sept 2002. The star speaker is Rudolph Giuliani. One of the other speakers is CIA man John Fulton. On the morning of September 11th 2001, Mr. Fulton and his team at the CIA were running a pre-planned simulation to explore the emergency response issues that would be created if a plane were to strike a building.' NLSI website confesses:'America's Mayor' Rudy Giuliani will lead the day with his presentation 'Leadership in Difficult Times', followed by the amazing story of Captain Dennis Fitch and the crew of United Airlines Flight 232. Mike Zafirovski of Motorola, Inc. speaks about Personal Security & Public Safety Technology.' John Fulton's 25 years in the intelligence community has contributed to his recognition as an expert in risk & threat response analysis, scenario gaming, and strategic planning. He is on staff for the Central Intelligence Agency (CIA), currently serving as Chief of the Strategic War Gaming Division of the National Reconnaissance Office, and as a member of U.S. Joint Forces Command's Project Alpha - a prestigious "think tank" for advanced concepts related to such issues as homeland security. He formerly served as the mission director for our nation's satellite imagery program as well as replacing Army Astronaut Same Gemar as the Director of the National Security Space Master Plan for the U.S. Department of Defense and Intelligence Space Communities under the auspices of the Deputy UnderSecretary of Defense (Space). His counter-terrorism and homeland security responsibilities include advising the Director Central Intelligence Staff for Homeland Security, the U.S. Marshall's Office, and collaboration with the National Security Council. In the private sector Fulton has developed a number of patents related to positioning, "smart GPS " applications, communications, and audio/video technology. He oversees the development of public & personal safety applications of these capabilities through SafeSTAR projects, and contributes to the strategic planning and conceptual design of the SafeSTAR Homeland Security Command Center."
—National Law Enforcement and Security Institute,
Homeland Security: America's Leadership Challenge
, September 2002
Ghouliani's father was a Mafia enforcer
living in Sing Sing prison for armed robbery, and whose uncle was a Mafia killer who ran NY state's largest cartheft op, before FBI gunned him down:
See also:
Banned hyperlinks cost you $11,000 a day