MSNBC TV: Israeli troops cross Gaza border - MSNBC TV is censored by Comcast cable in Knoxville Tennessee

Hamas plans to defeat Israeli force with epic "last stand" at Gaza City.

Remember Lebanon? Citizen militia kicked Israel's ass out of Lebanon, without any help from the Lebanese military, just like the American militia kicked the British Empire out of USA during the Revolutionary War. Those anti-tank missles kill 100% of Israelis at short range.

That explains why the Israeli air force is doing all the work, since the Israeli infantry is terrified.

Over 500 civilians have been massacred by Israeli psychopaths in Gaza this week, including over 80 children, massacred churches during prayer service, murdering all inside, massacred an American University, and massacred a wedding party.



Semite child in Gaza murdered by Jews in Israeli military firing rockets


Israel massacres Gaza City

I hopa Gaza massacres all Israeli soldiers. Including the Isreali soldiers hijacking the Bush/Obama White House. Good riddance.

However, Israel founded Hamas, who is allegedly firing these useless rockets at Israel. Less than 10 Israelis have been killed by Hamas rockets in 10 years. Hamas rockets "justify" Israeli martial law, concentration death camps, and Holocaust of Palestinans (the only rightful citizens of "Israel").

Pentagon's Jewish Operation Northwoods requires hiring enemy soldiers to attack US military bases, just like Jewish president LBJ hiring Israel to sink the USS Liberty and blame Egypt, to "justify" the Israeli invasion of Egypt.

Even Pentagon spokesdrones on CNN admit that Hamas is "standing down" during the Israeli invasion of Gaza City, "to sucker Israel into a trap". Or because Hamas works for Israel to attack Israel in impotent false-flag rocket attacks, for the sole purpose of "justifying" Israeli annexation of primo oceanfront real estate in Gaza City.


---
Hamas plans to defeat Israeli force with epic "last stand" at Gaza City

Gaza militia defenders

DEBKAfile's military sources report that Hamas does not propose to put its entire 15,000-strong army in harm's way against the expected Israeli military invasion. It will confine its resistance to small pockets and sabotage and let Israel troops occupy most of Gaza Strip territory. Assuming the incoming force will stop short of conquering Gaza City and put it to siege, Hamas planners believe this siege force will be Israel's Achilles heel. They propose to wear it down over weeks by nocturnal guerrilla forays from within Gaza City and force an inconclusive end to the conflict.

Thousands of Hamas combatants have begun infiltrating Gaza City after shedding their uniforms and are taking over civilian apartments.

DEBKAfile's military sources disclose that Israel's war planners have factored Hamas' thinking into their calculations and built tactics to catch them unawares.

Hamas strategists expect the Israeli ground operation to start with a simultaneous three-prong incursion of armor and special forces from the north, the east and the south. The invaders will occupy most of the 20x40-kilometer area of the Gaza Strip within 5 to 7 days at most, skirting and encircling Gaza City and other main towns. They will then, according to Hamas' calculations, carve the territory up into five pockets, each with its own military commander.

Pocket 1 will extend from the southernmost Philadelphi belt on the Egyptian border up to the southern outskirts of Khan Younis. Israeli units will then set about destroying the network of hundreds of smuggling tunnels which has kept Hamas supplied with arms, fuel and reinforcements through Sinai. Cairo may have tacitly approved the Israel plan.

Pocket 2 will cover the Khan Younes district up to the Kissufim junction.

Pocket 3 will cover the central region of the Gaza Strip up to the Karni Crossing, including the Moazi and El Bureij refugee camps.

Pocket 4 will encompass Jebalya, Beit Hanoun, Beit Lahiya, the primary rocket and missile sites, up to the northern border with Israel.

Pocket 5 An Israeli force will encircle Gaza City and send detachments into the town to liquidate Hamas targets and operatives from allied Palestinian terror groups.

Hamas believes the IDF force will be at its most vulnerable when its Gaza City siege force is faced with an active fighting front of 3,000-5,000 armed Palestinians. By day, they will mingle with the civilian population and by night emerge from hideouts in private homes to hit the Israeli armored forces from the rear with anti-tank weapons and suicide bombers.

The Palestinian group's leaders are counting on inflicting casualties that will mount up week after week and wear Israeli forces down until they are driven into an ignominious retreat.


---
Israeli defence chief resigns over Lebanon invasion debacle
Kim Bullimore
18 January 2007
After months of pressure following the debacle of the July-August war in Lebanon, Israeli defence chief Lieutenant General Dan Halutz announced his resignation on January 16, prompting thousands of Lebanese to take to Beirut's streets in celebration.
Halutz's resignation came despite his public statement two weeks earlier that he would wait until the release of the findings of the Israeli-government Winograd Commission into the political and military conduct of the war. The commissions findings are due to be released in February.
According to the January 17 edition of the Jerusalem Post, "senior officers estimated that Halutz's decision was made after he received inside information that he would take the fall" in the commission's report.
Halutz's resignation indicated that he would remain chief of defence until the 50 internal probes into Israel's offensive against Lebanon and the military's work plan for 2007 are completed.
Halutz's resignation has increased calls for the resignation of Prime Minister Ehud Olmert and defence Amir Peretz. In recent months, Olmert's personal popularity has plummeted to an all-time low in the wake of the war, the failure of his political party Kadima's "convergence" plan (unilateral "withdrawal" from the West Bank) and a probe into whether Olmert attempted to influence the sale and privatisation of Israel's second largest bank. According to the survey by the Dahaf Institute released on January 4, 77% of Israelis are dissatisfied with Olmert's performance as PM.
Many Israelis have called for the establishment of a national commission of inquiry into the war. Olmert, however, has consistently fought the establishment of such an inquiry. On August 28, he announced that there would be no independent national commission and instead established the Winograd Commission.
The parameters of the Winograd Commission have been determined by the government. Unlike a national commission of inquiry, it does not have the power to remove public officials, including the PM and members of the government. A national commission of inquiry would have been headed by a justice of the Israeli Supreme Court, who would have been responsible for determining the parameters of the commission independently of Olmert's government.
In 1974, a national commission of inquiry into the 1973 Arab-Israeli War was responsible for bringing down the government of Golda Meir. The Agranat Commission was set up in the wake of the war (also known as the Yom Kippur War). Although Israel ultimately won, early defeats in the war had a huge psychological impact on both Israeli and Arab consciousness as it revealed that Israel's military supremacy in the region could be challenged. While the commission cleared Meir and her defence minister of responsibility, they and the rest of Meir's government were forced to resign due to public outrage generated by the commission's findings.
---
Israeli IAF bomb a Gazan welding truck not a Hamas Grad transport
By Amira Hass, Haaretz Correspondent
ISRAEL - Just before midnight, on December 29, the Israel Defense Forces Spokesman's Office posted an urgent headline on its Web site: Truck packed with weapons attacked near Jabalya.
Israli "smart bomb" massacres innocent employees loading oxygen cylinders on a truck at a welding company
The subheadline went on to read: "At around 6 P.M., the Israel Air Force attacked a Hamas truck carrying dozens of Grad rockets."
According to the article, the rockets in the truck caused a secondary explosion, shooting pieces of weaponry in all directions. The rockets were being transferred, said the article, due to militants' fear that their present storehouse would be attacked by the IAF, as well as to be put to use for launching at Israel.
The article was accompanied by a video just over 2 minutes showing the IAF's perspective from the sky, until just a moment before the explosion. The video shows 15 white figures casually milling between two vehicles. Three long black objects appear between their hands and the white figures lay these objects down on what seems to be a truck. The second vehicle takes off at a certain point and suddenly an explosion sounds and flames cover the screen. An eyewitness said the explosion was caused by an overhead drone.
Human rights groups' investigations, however, present a different testimony altogether.
According to B'tselem and the Mezan center for human rights, the truck belongs to Ahmed Samur, 55, and is still standing, burnt, beside his workshop in the Jabaliya refugee camp. Next to it hang scorched oxygen balloons, a blade and cables. Nobody dares move the truck or the accompanying accoutrements for fear that the UAVs filming every detail from above will bomb whoever approaches.
"Everything is still there on the ground," said Samur on Thursday. "We only moved the dead."
Just three hours before the attack, Samur's daughter told him that she had heard on the local radio that a house next to his workship had been bombed.
He immediately got into his Mercedes truck, along with his son and a few neighbors and relatives, and went to the workshop to see the damage.
They were shocked to discover that the neighboring house had collapsed onto his workshop and decided to pack up the expensive tools and take them home before they could be looted.
On the first round, they brought home a drill, a welding torch, a scale, other tools and a gas balloon for cooking. Then they went back to the workshop to pack up the rest: three of six oxygen balloons used for welding, two jerrycans filled with benzene and two filled with diesel.
As Samir's son Imad organized the tools in the truck, his brother-in-law packed his own smaller car with 50 packages of welding electrodes, 4 kilograms each, and drove off.
Samur himself stood on the other side of the street to keep the dust particles from the burning nearby house from flying into his lungs. He looked at the youths packing the truck and was reminded of working bees in a honeycomb - this was just before 5 P.M., he estimates.
"Suddenly I saw a flash of light next to my truck and then it caught fire and I heard the sound of an explosion. I started to run toward the blast, and when I got close and the smoke cleared, I saw bodies, one of them belonging to my son Imad. I fainted. When I woke up they told me that Imad and the seven other young people who were helping him had been killed," he recounted.
Speaking to Haaretz by phone, Samur said: "These were not Hamas, they were our children, and I will tell you their names. Imad Samur, 32; Ashraf al-Dabar, 30; Mahmoud Rabayan, 15; Rami Rabayan, 23; Ahmed Hila, 19; Mohammed Mahdi, 17; Wissam Eid, 14; Mohammed Haber, 20. Four others were hurt, two of them seriously: Bilal Rabayan, 19 and his brother Baha, 16.
"You have experts and smart people in Israel," he said. "They should come and check my truck and the oxygen balloons. They should see that they were not Grad missiles and they were not anything else. You people are saying they burnt a big truck filled with Grads. Well come and see for yourself."
Haaretz asked the IDF spokesperson if the video depicts the truck in question, and was told "the truck's contents were taken from a building that was housing ammunition and rockets."
No one in Gaza has denied that Qassams are being manufactured and launched from the Strip, but there are many targets hit by the IAF whose military importance is unclear at best. For instance, a small, empty building in the middle of a playground in the Shabura refugee camp in Rafah which was blown up by the IAF two days ago, in an attack that left two dead.
Mezan said the unending IAF attacks have made it very difficult to determine how many of the targets hit were military and which were civilian.
---
Jew Roseanne Barr blasts Israel as 'Nazi state'
January 03, 2009
WorldNetDaily
Emmy-award winning comedienne Roseanne Barr, herself of Jewish ancestry, has nonetheless blasted Israel for its recent attacks on Hamas targets in the Gaza Strip, calling Israel a "Nazi state" bent on torturing "the Jewish soul."
"The destruction of the Jews in Israel has been assured with this inhuman attack on civilians in Gaza," Barr writes on her blog. "Exactly as its Nazi mentors did to the Jews of Warsaw, Israel now bombs innocent civilians who have been imprisoned in concentration camps in Gaza!"
She continues, "The Zionists look German! The Palestinians look like the Jews of Poland! The Jewish people have destroyed themselves in Gaza."
Her venom over the attacks, however, has not been reserved only for the Israeli state, but stings American Christians, too.
Her blog posts a picture of a bloodied and bandaged boy reportedly wounded in the recent days' airstrikes with the caption, "This is what the pro-life, right wing, neo con, evangelical, Zionist, Bible-banging Americans really mean when they say: 'America is a Christian nation,' or when they say: 'Israel must defend itself,' or when they say: 'The Bible is the Word of God.'"
Raised in a family of both Jewish and Mormon faiths, Barr now claims on her website, "I am a kabbalist, as was Jesus Christ."
As WND reported earlier, Barr has long blamed "Zionists" for tension and violence in the Middle East.
Two years ago, Barr explained, "The Arabs do not invade other countries. The Israelis do. I am sick of Israel and I am sick of Zionists. They are propped up by evangelical Christians who cannot wait for the Arabs to kill them so that their genocidal war god whom they misname Jesus can come back."
Do you really want to understand the conflict in the Middle East? You have to listen to what the terrorists say behind closed doors. Only one man has been listening to them - Aaron Klein, WND's Jerusalem bureau chief and author of "Schmoozing With Terrorists." Get it now from the people who published it - WND Books.
In blog posts from the last week
, Barr maintained her pattern of blaming Israeli nationalism for not only the Middle East's troubles, but America's as well.
Starting with Rahm Emmanuel, whom Barr labels a "brutal person who supports the liquidation of the Gaza Ghetto," Barr declares, "Remove Israel's influence from American government! Their occupation of and brutality against their neighbors is the real reason we were attacked on 9-11!"
Her blog further urges Americans to boycott cosmetics company L'Oreal for "financing the Nazi attack on the people of Gaza"; demands the U.N. divide Jerusalem into Jewish, Muslim, and Christian parts ruled by tribunal from all three religions; and pleads with Israeli soldiers to disobey orders and "refuse to be Nazis."
---
.

US Congresswoman and CNN journo rammed 3 times by Israeli navy. "We were sinking! We were under heavy gunfire! We thought we were going to die! Just like Israel tried to sink the USS Liberty." Hussein Obama says "No comment" on golf course.
Cynthia McKinney on CNN discussing Israel trying to kill her and USS Liberty
Cynthia McKinney Aboard Boat Headed for Gaza, Intercepted by Israeli Naval Force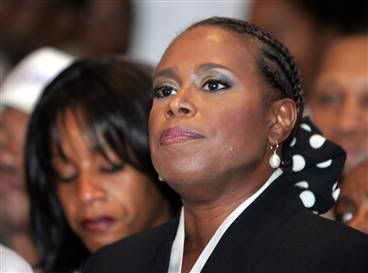 The Real Black Candidate Who's Actually A US Citizen TM
See also:
VIDEO: Loss of Liberty
VIDEO: Dead In The Water - The Sinking of the USS Liberty
To Provoke War, Cheney Considered Proposal To Dress Up Navy Seals As Iranians And Shoot At Them
It's time to nuke Israel, before they nuke US. We can use neutron bombs to prevent collateral damage to the Arabs and Christians. Arrest all Israelis in USA, re-educate them in Haliburton concentration camps, then deport them. That goes for Rahmbo too. Or didn't you know,
Obama's White House chief of staff is an Israeli citizen and officer in the Israeli army
, who fought in Israel during Gulf War #1. Why don't Obama's chief of staffs go back to Israel and fight and die on the front lines in Gaza and Lebanon? Rahmbo's a flaming homosexual who sucks shit off dicks, just like Obama, Georges Bush, Billary Clintons and
"Jeff Gannon"
.
UNCENSORED PHOTOS: The Gaza Holocaust, Israeli Attacks on Jabalia, February 27-March 3, 2008

Child in Gaza massacred by Jewish terrorists posing as Israeli soldiers