Kenyan citizen Hussein Obama spent $1-million in US campaign funds to massacre 1,000 Christians in British Kenya, after his Communist cousin lost the presidential election. 800 Christian churches were arsoned, with dozens of people cooked alive. Men and women were raped by Obama supporters. To stop the violence, the Kenyan government was extorted by Obama to make his cousin "prime minister", a job that did not exist.
Obama Mashup MP3
---
Hussien Obama campaigning for Commies in Kenya
Kenyan insiders say Obama was part of takeover strategy
Used 2006 'fact-finding' trip to criticize sitting president
By Jerome R. Corsi
WorldNetDaily
October 16, 2008
Hussein Obama campaigning with his Commie cousin Odinga
NEW YORK – Former members of Kenyan opposition leader Raila Odinga's Orange Democratic Movement party have told WND when Democratic presidential candidate Barack Obama visited Kenya on a "fact-finding" trip in 2006, he was carrying out part of a secret election strategy that also included exploiting divisive tribal tensions and ultimately taking advantage of rioting that left 1,000 dead.
The strategy document outlining the campaign earlier was referenced in "The Obama Nation" but could not be fully authenticated at the time of publication.
Now, however, research conducted in Kenya by WND has confirmed the authenticity of the strategy memo, which was prepared by a five-person Odinga "core strategy team" led by Peter A. Nyongo, the secretary general of Odinga's Orange Democratic Movement party, with the assistance of four key Odinga ODM strategists, including Odinga speechwriter Adams Oloo.
It was reported to have been smuggled out of ODM offices by Christian former-ODM officials.
WND's sources in Kenya included several top ex-ODM officials who played key roles in Odinga's 2007 presidential campaign, only to turn on Odinga when the candidate's memorandum of understanding with Sheik Abdullahi Abdi, the chairman of the National Muslim Leaders Forum, proved to be real.
In that Aug. 27, 2007, document, Odinga promises within six months of becoming president he would "rewrite the Constitution of Kenya to recognize Shariah as the only true law sanctioned by the Holy Quran for Muslim declared religions."
The former ODM sources in Kenya supported the authenticity of the campaign strategy by noting Odinga did conduct a campaign against President Mwai Kibaki by charging his administration with corruption, advancing anti-Kibaki sentiments aimed at inciting Kenyan youth to vote for Odinga and ultimately calling for protest by Odinga's fellow Luo tribal members. Kibaki is of the majority Kikuyu tribe.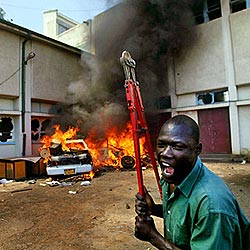 The "protests" turned violent, and in January and February a brutal wave of Odinga-supporting, machete-wielding Luo mobs killed an estimated 1,000 members of the Kikuyu tribe, displaced over 350,000 Kenyans from their homes and destroyed some 800 Christian churches, all without a single mosque being damaged.
The sources reported Odinga simply was following the script his policy strategists laid out for him in the Nyongo strategy document.
The strategy document remains available at this link.
Obama's involvement amounted to a coordination with Odinga on the campaign, according to the sources.
The general tone of the strategy was to encourage the Odinga campaign to claim to be leading in the presidential race regardless of the actual numbers and be prepared to proclaim victory even if Odinga lost.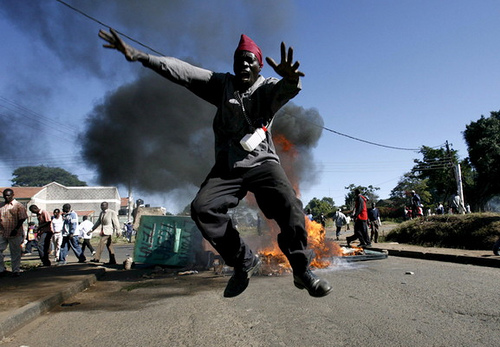 The officials poll results showed he lost to the incumbent by about 250,000 votes.
The plan called for "opportunities" for Odinga to pursue, including efforts to "exploit anti-Kikuyu statements," with a determination to "leverage the vulnerability of the Kibaki administration responses to corruption" and confront Kibaki with "a powerful anti-corruption message."
The final strategy the document calls for is exploiting ethnic tensions and using "violence as a last resort" to gain power. Among the 1,000 killed, reports say, were several dozen women and children who died when the Christian church in which they had sought refuge from marauding Muslim gangs was burned down around them.
The ex-ODM sources said Odinga followed the strategy script exactly, including his ultimate use of tribal conflict to gain power.
While Odinga never had explicitly demanded violence, the former ODM sources said Odinga used "code language" to his Luo backers to convey the instructions to burn Kikuyu homes, rape women and kill men.
Obama's part in the strategy was to openly attack the Kibaki administration in meetings where Odinga was in a very public attendance at Obama's side, the sources said.
WND previously reported a news report by a Chicago WBBM-TV news team of Obama's 2006 trip to Kenya. The report showed the senator undermining the Kibaki government in a speech delivered to the editorial staff at the Nairobi offices of the Standard, a prominent Nairobi newspaper, and at a separate appearance in which Obama delivered a public speech at Nairobi University of Nairobi, two hours after the appearance at the Standard.
The ex-ODM sources argued Obama and Odinga together were implementing in a coordinated fashion the strategy the Nyongo-led policy advisers had crafted in the internal strategy document.
The two politicians remained in touch through that time period, as WND also has published a report referencing a copy of a private Dec. 22, 2006, e-mail in which Obama personally informed Odinga that "all our correspondence [be] handled by Mr. Mark Lippert."
Lippert, at that time, was serving as a foreign policy advisor in Obama's U.S. Senate office in Washington, D.C.
The Washington Times also reported
Odinga visited Obama during three trips the Kenyan politician made to the U.S. in 2004, 2005 and 2006
.
The Times also reported Obama sent his Senate office foreign policy adviser, Lippert, to Kenya in early 2006 to coordinate and arrange for Obama's Senate "fact-finding" visit to Kenya later that year.
As further evidence that Obama and Odinga were coordinating to implement the campaign strategy outlined in the Nyongo-authored document, the ex-ODM sources in Kenya argued that
Obama maintained almost daily cell phone contact with Odinga as the post-election tribal violence was unfolding in Kenya
, even as Obama was campaigning in the final days of the New Hampshire Democratic Party primary, as has been reported by the BBC.
The ex-ODM sources said Obama worked after the election with former U.N. Secretary General Kofi Annan and U.S. Secretary of State Condoleezza Rice to argue a position should be created to allow Odinga to share head of state as a compromise to end the violence.
The ex-ODM sources said during the post-election violence Obama did not call on Odinga to drop his charges of voter fraud or to withdraw completely from his efforts to become head of state as a strategy to calm his Luo tribe supporters and bring a halt to the violence.
WND confirmed in Kenya that at one point Annan and Rice actually pressured Kenyan Vice President Kolonzo to step down from his position to bring the Luo-mob protest violence to an end by appointing Odinga vice president so he could assume the nation's second highest political office.
When Kolonzo refused to step down, Annan and Rice proposed the Odinga-inspired plan to appoint him as prime minister, effectively allowing Odinga to share the head-of-state position with Kibaki, a solution that was adopted.
Get the book that started it all – Jerome Corsi's
The Obama Nation
, personally autographed – for only $4.95, available today, but only from WND!
WND also reported on the authenticity of an Odinga campaign internal finance memorandum documenting that Obama arranged for
Odinga to receive in his U.S. trips nearly $1 million in campaign contributions from Obama fund-raisers
and donors to assist Odinga in his 2007 presidential campaign in Africa.
The finance memo, prepared by Shakeel Shabbir, the head of Odinga's campaign finance accounting section, also detailed that among the 72 individuals and organizations that contributed money to Odinga's 2007 presidential run in Kenya was Saif el-Islam Gadhafi, the second oldest sun of Libyan dictator Muammar Gadhafi, who also was listed as contributing nearly $1 million to Odinga's campaign.
The Shabbir document lists the Obama-generated campaign contributions from the U.S. as having been donated by "Friends of Senator B.O."
Obama's campaign
Fight the Smears
website and a posting by Ben Smith at Politico.com have questioned the authenticity of the Obama-to-Odinga Dec. 22, 2006, e-mail by arguing the e-mails "appear not to have been written by a native English speaker," without addressing a second similar e-mail WND published, that should not occasion any linguistic quibbles.
Moreover, neither "Fight the Smears" nor the Smith posting disputed the substantive point made in the e-mails, namely that Lippert served to coordinate between Obama and Odinga while Lippert held a staff position in Obama's U.S. Senate office in Washington.
WND was unable to get a response from Obama with calls to his Washington office and Chicago campaign headquarters.
For media wishing to interview Jerome Corsi, please
e-mail Tim Bueler
.
---
Hussien Obama is a citizen of Kenya. His granny brags he was born in Kenya, admitted as true by Obama and DNC in fed court last week.
www.obamacrimes.com
Barack Hussein Obama's National Security Advisor, Polish jew Zbigniew Brzezinski
visiting 'his boy', Osama Bin Laden, in training with the Pakistan Army, 1981. Photo originally scanned from the New York Village Voice. Photo credited to the Sygma/Corbis Agency, Paris
"I don't regret setting bombs. I feel we didn't do enough. Kill all the rich people. Break up their cars and apartments. Bring the revolution home, kill your parents, that's where it's really at. Everything was absolutely ideal on the day I bombed the Pentagon.''
-Professor Bill Ayers,
Weathermen bomber using Obama's logo
, FBI/CIA employee and confessed bomber of NYPD HQ, US Capitol, NY Supreme Court, bombed and killed two female bombers in his house, busted CIA LSD mind-control agent Timothy Leary out of prison, confessed to 12 bombings but never prosecuted, author of Barack Hussien Obama Sotoro's authorized biography and grant recipient of Obama's Annenberg Foundation
Obama Mass Hypnosis Manual
Obama's Commie CHANGE you can believe in...
OBAMA SEX PERV SCANDAL
Obama Likes Hot Sweaty Mansex
Larry Sinclair Archive
---
Originally posted by whozitreport.bs:

Where's the picture of his half brother who lives on $20 a month?
Vanity Fair finds Hussein Obama's brother dying on $20 a month in Kenya
But I'm sure ObamaNation will take care of all those deadbeats who vote for him. Sure he will.
One way or another.
"You're doing a heck of a job Brownie!"
-George W Bush, Hurricane Katrina Response Team
Video: Gun grab in New Orleans
www.neworleansgungrab.com
Martial Law is such a hoot.